Are you fond of camping? Then why you stop it just because you are now having a baby? That is not an issue if you know the exact process of camping with a baby checklist. In fact, with your toddler, you will gonna enjoy a great as well as an adventurous camping experience. It is quite natural that you have a cold fear to take your baby to the camping because it will change your baby's daily routine and you have to be more protective and concern about your kid's health. So be mentally prepared and start your bag packing for the exciting camping with your new guest.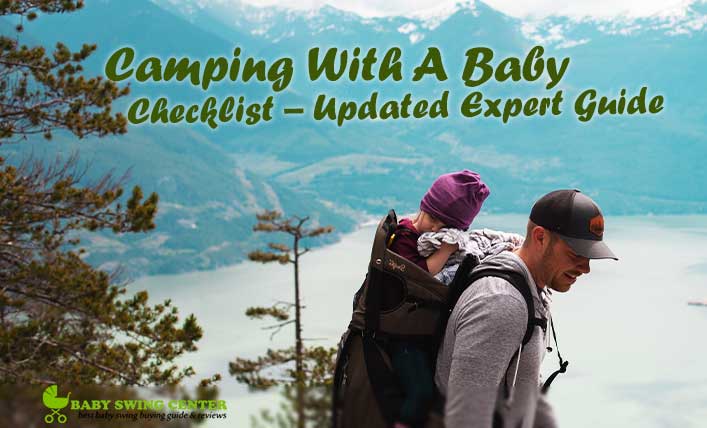 In this article, I will guide you with the checklist you need for this camping so that you don't miss a single thing during your camp.
Camping With A Baby Checklist
Diapers and Diaper Bags:
This is an important thing you should carry during your camping. Without these diapers, you will not a comfortable continuation of your trip. You should avoid the cloth diapers because it is good if you are at home but not suitable when you are on a journey. So my suggestion goes for the disposable one which is user-friendly as well as eco-friendly. Along with that must carry the diaper bags, but remember it should be waterproof.
Washcloths, Wipes, Towels etc:
You must carry plenty of washcloths and wipes as well as towels along with you because you never know how your toddler plays with the dirt and mud and how many wipes and washcloths you need to make your baby fresh every time. This camping will be the memorable one for your whole family, and this one will be the first camping of your infant. So give him/her the full freedom to enjoy and become used to of it.
Choosing a family tent:
Choosing a family tent is very much important while you are in family camping with your infant. So before going there must choose an appropriate family tent which will give you a proper comfort wherever you decide to stay or spend a one night. Choose the tent as per your family member as it doesn't have any fixed or particular size.
Carry the travel crib for your baby:
Whether you are sleeping in a camper or the family tent you must take care that your baby can get a sound sleep so provide your boy/girl a safe place to sleep. So the ideal sleep accessories is the Travel Crib which is light weight and easy to carry anywhere.
Baby Carrier:
This one is another important thing you should not forget to carry while you are going for the trip with your kid. So listed this backpack carrier for the hiking. With the help of this carrier you can easily carry your kid and can roam here and there without any trouble.
Toys, baby camp chairs and Playpens:
As you are taking your kid with you so as a responsible parent you have to look after the matter how he/she gonna time pass during the trip. So never forgot to take some toys with you and carry the baby camp chairs also with you so that whenever you are busy with the camp task make sure that your toddler is not get frustrated in this journey, or not roaming or crawling here and there like a vagabond. This is the cause why I ask you to take the baby camp chairs and playpens with you so that your baby can play with that.
Food:
Cary the food as per the age of your baby. Take some baby food along with you also take a grinder with you if your child is able to eat the solid foods. If your kid just only drinks then must carry the sippy cup and if your kid is little bit able to have some snacks then you can carry too. Because breastfeeding may not be possible for you kid, while you are on the trip, so you have to manage with an alternative way so that your kid doesn't suffer.
Sunscreen:
How to forget about the baby sunscreen? Put that now in your bag, As your infant going on an outdoor trip so you have to protect him/her from the dangerous and harmful UV rays.
Safety and Medications:
For the safety, reason must carry the first aid kit with you. This one is really very much important. And another important thing is, before going on this trip, just take an appointment with the nutritionist of your baby for the diet. Also consult with the child specialist so that if your doctor asks to carry some particular medicine, then carry that too with you.
Involve your child in this camp:
Involve your child in the camp task, so that your baby can be more active that he/she used to be at home. Give him a tiny container and ask her/him to collect the small rocks or sticks. Believe me, you kids gonna enjoy this trip.
Some tips for the parents: Above mentioned items are the main checklist which you have to carry while you are preparing packing. Apart from that if you feel personally that you should carry a specific thing then you can. Excluding that I want to share some small but important tips for the parent. Hope it will help you a lot during your camping. Have a look-
Tip 1
Before going for the main trip, why not arrange a trial camping at home? It will prepare your child mentally for this trip.
Tip 2
Tip 3
Tip 4