Little babies are the most fun and at the same time the most difficult to take care of. This is especially the case if you are a parent or nanny with other responsibilities in addition to those of taking care of the child. What makes it so difficult is the fact that babies have many needs. One of these is the need to be held and cradled. This can be hard to manage if you are multitasking. It is for this reason that investing in a good cradle is super important. One of the best in the market is the Fisher Price Moonlight Meadow Deluxe Cradle and Swing.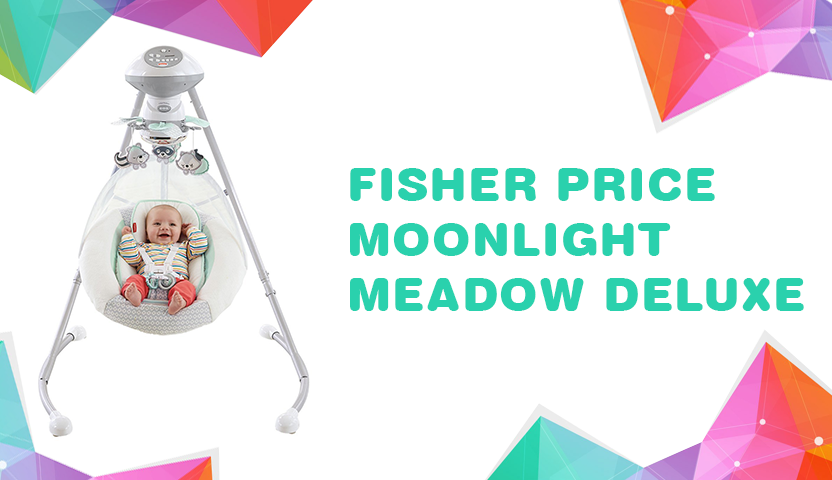 Fisher Price moonlight meadow deluxe cradle and swing Reviews
As the name suggests, this product doubles up as both a swing and a baby cradle. It has some pretty amazing features that make it one of the best in the market. Some of my favorite things about the Fisher Price Deluxe Cradle and Swing include:
The Fisher Price Deluxe Cradle and Swing has two principle motions. The first is the side to side cradle movement. This has a soothing effect on the child and is best applied during nap time. The second is the head to toe swinging movement. It is a whole lot more fun and lively and is therefore best applied during play time. The cradle and swing also provides you as the parent or caretaker with six different swing speeds to choose from. These allow you to easily switch the overall mood created while on the seat for an easier time with your child.
It has a motorized mobile
Like many other Fisher Price baby seats, the Moonlight Meadow Deluxe cradle and swing has an inbuilt sound system. This system has sixteen songs and also nature sounds that soothe and entertain the baby at the same time. The nature sounds and lullabies are great when the baby is sleeping. The faster nursery rhymes are better applied during play sessions to enhance the lively mood. The motorized mobile is a great feature for the parent as well. This is because it helps with the cognitive development of their child. It does this by teaching them how to recognize and associate different sounds with different meanings.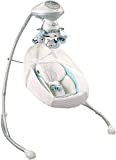 It has an overhead toy station
This is fully stocked with an assortment of toys and stuffed animals. These are great to play with and help to keep the child busy and entertained. They are also set up in such a way that the child can play with them without dropping them. This way, you don't have to worry about your baby catching germs from dirty toys that keep falling to the floor. The overhead design of the toy station also helps to develop your baby's eye-tracking as well as hand-eye coordination. This makes the Fisher Price Moonlight Meadow cradle and swing not only fun but educative.
It can use one of two convenient power sources
One of the ways to power this cradle and swing is using batteries. It is compatible with D alkaline batteries and requires four of these. This is a great option when you are not near a reliable power source. The second way to power the device is by plugging in to any main power outlet in your home. It uses a 120 volt AC adapter. The Deluxe cradle and swing uses very little power and you need not worry about your electricity bills going through the roof.
It has comfortable padded seats that are easy to wash
The seat is designed in such a way that the baby is surrounded by soft padded material for a cozy and comfortable feel. The fabric covering the seats is also very soft and is free from allergen particles. The other amazing thing about this fabric is that it can easily be removed from the seat and washed either by hand or by machine. This eliminates stress that comes with cleaning up after the baby's mess.
Frequently Asked Questions (FAQ'S)
What Are The Colors Available For The Fisher Price Moonlight Meadow Deluxe?
It is only available in white
Does The Package Include Spare Parts Like Extra Frames And Seat Pads?
No, You will have to buy these separately.
Conclusion
This amazing swing and cradle will keep your baby calm and entertained as you work on other tasks. Its ease of set-up and use as well as the proven success in soothing babies makes it a worthy investment. After all is said and done, there is no denying that the Fisher Price Moonlight Meadow cradle and swing is a great product.