For as far back as anyone can remember, children have been fascinated by swings. This is especially seen in infants and very young children. Scientists claim that any form of swinging or swaying is familiar to the infants and reminds them of the time they were in the womb. Whatever the reason is, there is no denying that swings have an amazing power over these little angels. Parents are often forced to install swing sets but this only works for older children. For infants, portable swings are the new in thing. The Bright Starts Safari Smiles portable swing is one of the best in the market. The Bright Starts Company is well known for its amazing design and manufacture of baby products. It is therefore no surprise that their portable swing is ranked among the best.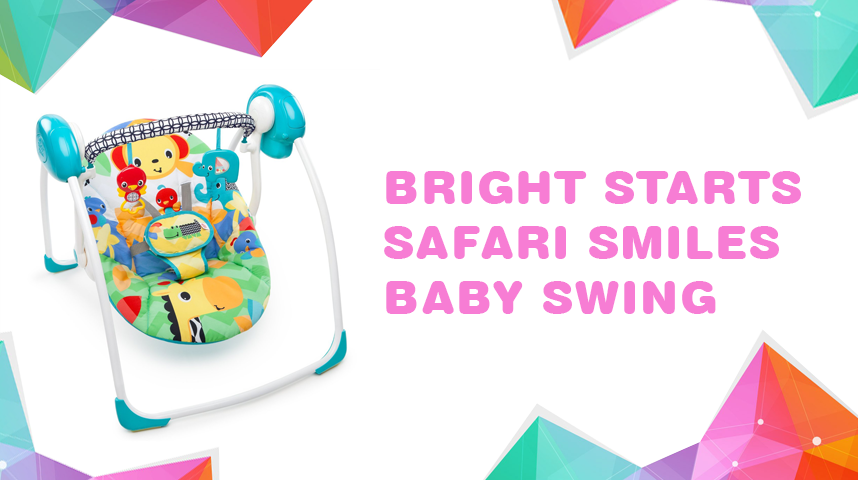 Bright Starts Safari Smiles Portable Swing reviews
Some of its most amazing features include
This feature allows you to choose between different automatic swing speeds. There are six of these which you can change using a speed dial on the swing itself. The first three speed levels are slow and soothing. These are ideal for calming the child down especially if you want them to fall asleep. The fourth to sixth speed settings are much faster and are great when you want the child to have fun and stay entertained while they are awake. The TrueSpeed Technology maintains the integrity of these speeds even as the child grows. This way, you can be sure that their weight will not affect the effectiveness of swing.
It uses Whisper Quiet technology
The Whisper Quiet Technology muffles all noise that comes from the motors that operate the swing. This is a great feature that ensures that the child is not distracted or irritated by the noise as the swing. The silence allows the baby to enjoy their time being cradled whether they are asleep or awake. The technology is also a benefit to the parents who also get to do their work in silence.
2-position Reclining Seats
The seat can be adjusted to either an upright or a semi-flat position. It is easy to switch between these two seat modes using a lever on the swing itself. This allows you to use the Bright Starts Safari Smiles portable swing whether your child is awake or asleep. The two seat positions are designed and aligned to maximize the fun experience on the swing. This feature also enhances safety. This is because at no one time will the child be in a position that puts them at risk of toppling off the swing.
These are a type of alkaline batteries that are often used with devices that do not require very much power. The 'C' batteries have a long functional lifespan of up to twenty four hours before they need to be replaced and recharged. This means that your baby can enjoy the swing all day long; literally. With the Bright Starts Safari Smiles potable swing, you also have the option of using electricity from your main power source. The swing is compatible to all AC wall adapters and utilized very little power.
Animal and jungle themed design
Every inch of this portable swing is covered with colorful images and patterns. These include cartoon versions of animals such as lions, giraffes and zebras. There are also jungle themed images including wild flowers and vines. These keep the child preoccupied and entertained at the same time. In addition to the decor, the swing also has a toy bar where you can hang your child's toys for them to play with. This design also eliminates the chances of toys falling to the ground over and over again.
Frequently Asked Questions (FAQ'S)
Is There A Warranty On This Product?
Yes, There is a one year warranty.
Are There Any Other Themes Available For The Portable Swing?
No. Currently, there is only the jungle themed swing.
Bottom line
The Bright Starts Safari Smiles portable swing is an amazing product that both the baby and the parent will enjoy. It is essentially a babysitting aid that not only holds and cradles your baby but also helps by keeping them entertained. This helps the parents or the baby's caretaker to multitask without leaving their child cranky and unattended. If you are not a parent of a newborn baby, the Bright Starts Safari Smiles portable would make for a great baby shower present for a friend or a loved one. With its endearing design, ease of use and other amazing features, it is no doubt a must have in any home with an infant.