We know how much you adore cradling your baby in your arms and rocking him. You must enjoy the giggle of your baby while swinging up and down, right?
Let's breakdown exactly why your newborn baby loves swinging.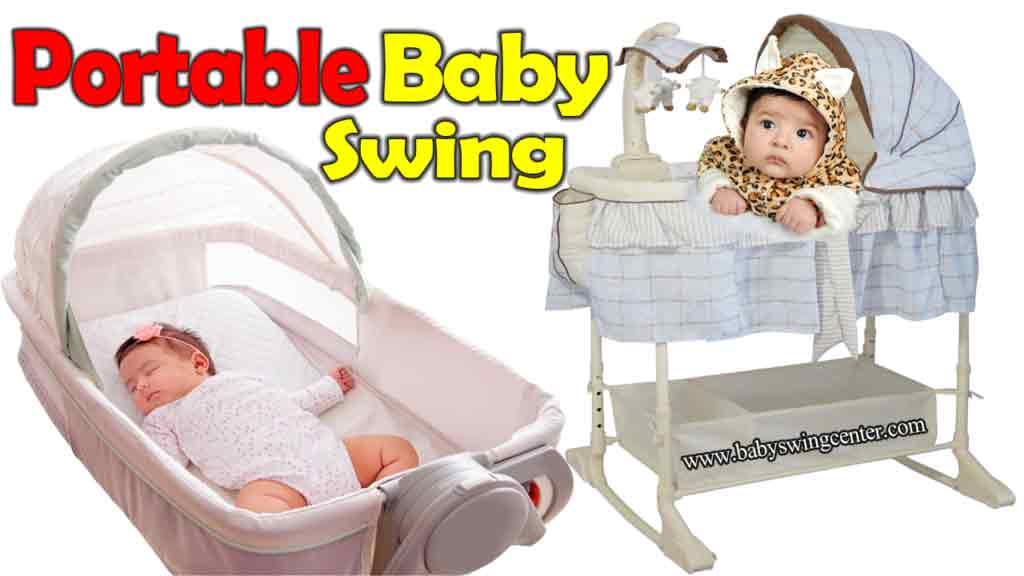 It's because a cradle gives a newborn baby the rhythm of sensation that he feels in the mother's womb. These experiences for baby are linked up with pre-birth movement. This is why having a baby swing will always keep your infant smiling.
Parents always wish to keep baby beside them even when they are working or traveling outside. This is why buying a portable swing for your baby is a smart move.
Read Here: Portable Baby Swings: The Perks and The Problems
​If you're here you are probably yearning for some time off but you might have no time to do homework. Take it easy, that's why I prepared this list of best portable baby swings for you to guide you.
We've divided this review into three sections. Here you'll get top 8 best portable baby swings reviews from the three different manufacturers.
​​

Ingenuity portable swing reviews

​

Portable baby swing with ac adapter

​

Fisher price portable swing
8 Best Portable Baby Swings
The best baby swing will keep your child entertained enough with its cute soft toys and various soothing sounds. It also includes various motions swinging speed with timer setting options that will give you some freehand time.
Looking for the best portable swing for baby? Take your load off, as you are in the right place. If you are undecided then here is a list of the ​8 Best Portable Baby Swing Reviews ready for you.
Best Ingenuity Portable Swing Reviews:
1. Ingenuity Cozy Kingdom Portable Swing
Ingenuity Cozy Kingdom Portable Swing provides soothing luxury with ultra-plush padding and fabrics. Besides, with its removable seat pad, you can always keep your little one clean and hygienic.
You can use the swing anywhere any time you want as the swing is luckily portable and fold-able to half of its original size.
Ingenuity Cozy Kingdom Portable Swing is designed with 6 swing speeds with TrueSpeed technology and three timer choice settings including 45, 30 and 15 minutes. In the case of their needs, parents can choose their desired swing speeds and time settings they want.
There is info graphics guideline for basic features of a baby swing
Your baby can experience 2 positions of comfort with the help of the swing's adjustable seat pad setting.
Ingenuity Cozy Kingdom Portable Swing features with 6 gentle melodies that will keep your baby joyous. With the entertaining features of plush toys, your sweetheart will remain cheerful. You can adjust the volume control of the melodies as well.
Highlighted Features:
Soothing, ultra-plush seat pad will give your baby perfect comfort.
6 soothing melodies will keep your baby silent.
Your baby can experience 2 positions of comfort.
The toy bar and swinging speed will keep your baby happy
2. Ingenuity Convert Me Swing-2-Seat Portable Swing - Ridgedale
Let your 0 to 9-month baby relax in comfort with amazing ingenuity ConvertMe Swing-2-Seat. It can be used as both swing and a stationary seat for your baby. The shape of the ingenuity seat can be the ultimate comfort for your baby with its adjustable soothing vibration.
The manufacturers know that how much it is important to keep your baby secured. So, they add some extra securities. It offers 5 point harness and non-slip feet along with a seat belt to keep your baby safe inside while moving and swinging.
The seat pad and the head supports, both are removable and easy to clean.
Your child's entertainment is enhanced by 5 soothing swinging speeds and 3 timer choices of 30, 45 and 60 minutes.
It's 8 melody sound with 3 pleasing nature sounds will bring a cheerful smile on your baby's face. Top it all off the leaf-like toy bar will surely catch your baby's eye to play with.
Everyone hates sound during swinging right? Babies and parents are also the same. Ingenuity ConvertMe Swing-2-Seat Portable Swing – Ridgedale is giving you good news with It's Quite technology features that nearly makes no sound.
Ingenuity ConvertMe Swing-2-Seat Portable Swing – Ridgedale presents you Hybrid technology that allows your batteries to run 3 times longer. So there is no chance to compromise your time.
Highlighted Features
Slim fold and portable, easy to transport.
8 melody sound and 3 pleasing nature sounds will make your baby happy.
5 soothing speed with timer choice will give you some freehand time.
 Hybrid technology allows your batteries to run 3times longer.
3. Ingenuity Boutique Collection Swing 'n Go, Portable Swing - Bella Teddy
Want the best rated portable baby swing? Get a few hands free time with the swing timer that is adjusted with Ingenuity Boutique Collection Swing 'n Go, Portable Swing. It can be set to 30, 45 and 60 minutes. The 5 soothing speeds are programmed into the swing that can be adjusted according to your tot's preferences.
Ingenuity Boutique Collection Swing 'n Go Portable Swing enable the baby to swing in favorite swing speed by Its True Speed weight sensing technology.
If you want to power up between play and nap then it' 8 melodies and 3 nature sound can give your baby delightful experiences. You can control the automatic shut off or volume changes.
Two adorable plush toys for keeping your baby busy is a nice try. You will have an easy way and short time storing due to Its convenient folding system. Its portability features allows you to carry your baby with swing anywhere.
Ingenuity Boutique Collection Swing 'n Go Portable Swing enhanced with 5 points harness and non-slip feet for safety. So moms can relax and handling other chores since their baby is safe.
It includes premium soft luxurious fabrics seat pads with an extra headset that offer extra support to the baby. Its machine washable seats with removable features help a lot to clean messy seat pads.
The amazing latest model takes the comfortable soothing experience of the baby at the next level. Experience noiseless features with its Whisper Quiet technology.
Thanks to Hybrid Rive Technology as it offers batteries to run up to 3 times longer.
Highlighted features:
Luxurious soft plush fabrics with removable headsets will keep your swing always clean.
Customizable 5 swing speed, 8 melodies, and 3 nature sounds provide baby ultimate entertainment.
TrueSpeed technology that senses the baby's favorite speed choice.
Whisper Quiet technology for silence.
Hybrid rives Technology that runs batteries 3x longed.
Portable Baby Swing With AC Adapter
4. 4moms RockaRoo
If you want an amazing feel of gliding motion front to back for your baby then you are in the right place.
The smooth gliding motion of the 4moms rockaRoo swing gives your tiny one feeling of riding rocking chair.
It's perfect for parents living in a smaller home as it is one third the size of traditional swings.
It's smoothy cool nylon fabric with sufficient space to breathe and airflow design helps your baby to stay cool and calm. The back layer of the rockaRoo is made of innovative 3D air mesh fabric that provides the ability to breathe and the front layer is a smooth cool mesh fabric that gives a cool sensation.
Understandably, a baby can become messy. So rockaRoo arranges a comfort and soothes seat that is easily removable to wash and tossed in the washing machine. Here is an article how you can set up a 4moms rockaroo.
The sleek and latest design comes with sparkling and modern colors. The electronic mobile reflects the colors overhead keeps baby giggling with a reversible, removable toy ball.
Dear parents, you never have to spend money on batteries for your new rockaRoo as it includes an AC adapter. Just plugged in and enjoy the service.
By gentle control panel customize baby's experience with 5 speed of back and forth gliding motions.
Keeping your baby secured is a must. For this rockaRoo offers 3 point harness. Remember that this swing is suitable for only the baby who can sit up unassisted and fit for a maximum of 25 pounds weight. Moreover, it is not recommended to leave your baby unattended here.
Highlighted Features
Gives gliding motion from front to back like rocking chair.
Baby can experience 5 speed of back and forth gliding motion.
3 point of harness for your baby's safety.
Save your money with AC adapter.
5. 4moms MamaRoo4 Baby Swing
Are you having a hard time making your infant sleep? Then it's time for you to think about bringing a new 4moms mamaRoo4 Baby Swing in your house.
The seats allow baby to lie back or sit up and play relaxing. It allows the mother to adjust any position she wants. it works surprises for nap time. Also, it includes an AC adapter that will save you money.
4moms mamaRoo4 Baby Swing moves like you want to move. Getting two types of swinging options in one swing is great. 4moms mamaRoo4 Baby Swing is built up with the features of seat bounces up a down and also sways from side to side. You can remove it and clean it whenever you want.
4moms mamaRoo4 Baby Swing let you choose from 5 different motion including car ride and tree swing. It also has the option of selecting a speed from low to high. All you have to do is find the soothing combination that works best for your tots.
The overhead mobile is adorned with interactive, reversible toy balls to engage. The sound of the crinkle ball, rattle or shine mirror ball will give a spark of a smile on your baby's face.
Personalize baby's favorite music with your Apple devices using the 4moms app for IOS. 4moms mamaRoo4 Baby Swing has four built-in amazing sounds. Moreover, you can also connect it to any MP3 player.
Imagine you are in the kitchen and your hand is full of vegetable's smell. Or maybe you are lying down after a tiresome day and you are feeling needs to customize your baby's swing. Surprisingly, you can control the motion, sound, speed, and volume of the mamaRoo through your smart mobile that supports Bluetooth without touching it.
Keep it in mind that you should never leave your baby unattended. 4moms mamaRoo4 Baby Swing is not for babies who can sit without any assistant. It can hold up to 25 pounds weight.
Highlighted Features:
The seats allow baby to lie back or sit up and play.
Personalize baby's favorite music with your Apple device.
Control motion by using a Smartphone that supports Bluetooth.
5 different motions that you can customize.
6. Graco Simple Sway Swing
Want a swing that supports both batteries and plugged in features? Then Graco Simple Sway Swing is here for you. Plugged the wire in or make it portable using batteries.
The plush soft comfortable seats with large accommodation able to hold baby weigh up to 30 pounds.
Don't make your baby bore with same melodies. Graco Simple Sway Swing is offering you 10 classic melodies and 5 nature sounds to keep your baby relaxed.
The swing is built with a customized design that allows your tots to swing side to side. Parents can adjust speeds from 6 options according to baby's preferences. This easy to fold and transport swing also has 2 settings vibration mode which you can custom as your tot's mood.
A mobile with three soft toys includes Graco Simple Sway Swing attached to the toy bar. They will prevent the baby to get hurt. This cutie toys will keep your baby busy playing with.
Why spending money on the battery while Graco Simple Sway Swing arranges plug-in option for you? So just chill and buy this amazing money-saver product for your newborn.
Read full review: Graco simple sway baby swing
Highlighted Features
Supports both batteries and an AC adapter that can save your money.
6 option of customizing speed according to the mood of your tot's
Three soft toys will keep baby busy playing.
10 classical music with 5 nature sound will be amazing time pass for your baby.
Fisher Price Portable Swing
7. ​Bright Starts Zig Zag Zebra Portable Swing
Bright Starts Zig Zag Zebra Portable Swing comes with the 5-point harness and non-slip feet safety. It is also lightweight and compact that you can take the swing easily with you anytime you need.
Your tots will have enough music and toys to remain busy. The leaf-shaped toys can be a reason for your tots smile.
Finding the perfect speed for your baby is easy now with. With weight sensing technology the Zig and zag swing offers 6 back-and-forth speeds. These magical speeds stay regular even your baby gets bigger and heavier.
You can maximize your baby's comfort zone with a cozy padded seat and 2 recline positions. Seats become messy? That's okay. Just remove the seat pad and wash it. It is machine washable that makes cleaning easier.
Carrying and picking your baby from the swing while toys are hanging in front can give you a hard time. Take it easy, as the swing toys are removable so that you can pick up baby easily.
A silent swing for your drowsy baby is a must. Bright Starts Zig Zag Zebra Portable Swing promising you nearly silent swing with its high WhisperQuiet motor technology.
Highlighted Features
Portable and foldable lightweight swing. So that you can travel with it anywhere.
Toys, seat pads are removable. You can remove it and clean it anytime.
Nearly silent swing with WhisperQuite operation keeps your baby sleep peacefully.
6 back and forth speed can be customized as a baby's mood.
Includes Weight Adapting Technology that senses baby's weight and keeps swinging as tot's favorite swinging speed.
8. Bright Starts Whimsical Wild Portable Compact
Parents always want to keep their child in the best place. Bright Starts Whimsical Wild Portable Compact has all the features that your baby will barely realize that they are not in the mother's arms.
Thanks to 2 positions reclining seat. It's going to be very comfortable for baby. The companion of two adorable smiley faces toys can be your tot's best time pass. Two take away toys can bring a smile to your baby's face anywhere you go.
​It's adjustable toy features that allow you to pick up your baby conveniently. In case of mess in seat pads, it's not gonna be a big deal since the swat cover is machine washable.
It entertains your baby with six amazing melodies and favorite adjustable speed. Its weight-adapting technology keeps consistent speed throughout. This technology senses the weight of your baby and keeps the swing speed the same. Thus it goes along with its automatic favorite speed.
Mom is finding the swing ideal because the swing doesn't make any additional sounds. With Its Whisper Quiet technology, all you can hear is a sweet sigh and babbles from your baby.
The 5 point harness is made to ensure safety as well as comfort. When your little one is tired it will help your baby to remain safe inside.
Even on travel Whimsical Wild Portable Compact swing can be a great comfort zone for your baby since it is lightweight and foldable. It's easy to fold and pack up.
Highlighted Features
Lightweight, portable and foldable swing makes travel easy for moms.
Removable and machine washable Seat Pad and headset.
Whisper Technology that keeps the environment silent.
2 take away toys for baby to play outside.
5 point harness, soothing music and swinging speed keeps your baby secured and happy.
Things to Consider Before Buying a Portable Baby Swing
Want to buy the best price portable baby swing for your baby? Then there are a few things you should think about.
Keeping your baby secured is a must. Before buying you should check if the swing has at least 3 to 5 harness and non-slip feet to keep your little one not sliding and safe. Also, check the weight capacity of the swing so that your baby is within the recommended ranges.
Entertainment Options:
 To keep your baby quiet and happy you need to see the entertainment features seriously. Make sure that the swing includes enough music and also soothing sound for nap time. Variety of sounds will keep you and your infant from becoming exhausted. If you don't want your baby to become bored then checks if the swing has toys. You can do your other house chores while your baby is playing with them.
Swing Speed and Direction:
Traditional swing usually designed to move back and forth. But some models include the features that sway from side to side. Most of the swing in the market now has options of customizing swinging speed. You can customize them as your baby's preferences.
You should not compromise your baby's comfort. Make sure that the seat pad is enough soft and smooth for your little one to relax in. Available swings offer luxury, plush super soft seat pads that make an ultimate comfortable cozy spot for your infant. Swing that can recline makes an ideal place for your baby to fall asleep.
Normally, your baby can be messy. So you need to clean the seat pad of the swing often. Cleaning can be made much easier if the seats and the head support are removable. Make sure they are machine washable and you can wash it conveniently. 
Foldable and Portable: Swing with foldable and portable features will make busy mom's life easy. If it's your tot's favorite companion then you can simply fold and take a swing wherever you go. Make sure that the folding process is convenient to operate.
To ensure your baby enjoys swinging long and you don't want to disturb your baby charging the battery then we strongly recommend you to buy a swing that plugs in. Also, the AC adapter will save your money. Battery drains out quickly and you have to change it every month.
 Remember if you want to use the swing outdoors frequently then battery operated one is the best choice for you. Hybrid Rive Technology can run your batteries up to 3 times longer. Swing includes battery and plugs in both can be more perfect for you if you want to save money and use the swing outdoors at the same time.
You intend to buy a swing but you don't have enough space in your house? Your house is full of baby's other stuff and ended up having little space for your baby's swing? Then go for space saver swing that is available in the market. But if you have a larger space then you can buy the larger one.
​If you don't want your baby to disturb while swinging then remembers to check Whisper Quiet Technology options that keep your room near to silent. All you can hear is your baby's breathing and smiling.
Why do you need a best portable baby swing?
You cannot hold your baby all day long even you want, right? You have to do other house chores and you need a second comfort hand for your little want. That is why buying the best portable baby will give you the ultimate solution. 
Its extraordinary portable features will be a savior for your baby to the magical comfort zone. It's obvious that as a parent you just want the best for your infant.
You must want mother arms warmth and a secure place for your baby at the same time. The best portable baby swing combines all the things you want.
The best baby swing will keep your child entertained enough with its cute soft toys and various soothing sounds. It also includes various motions swinging speed with timer setting options that will give you some freehand time. 
Portable Baby Swing Vs Regular Baby Swing
A regular baby swing usually comes with a full-size baby swing. So the primary differences between both swings are its size. The portable one is smaller than the regular one. The portable swing can be a space saver and perfect for a small house. Whereas big size swing is hard to move and takes more space.
Portable swing is easy foldable and portable so that you can easily take it anywhere you want. But it's tough to take your regular swing for outdoor travel. The battery-operated portable allows you to swing your baby in outdoors also. Whereas regular swing always needs to stay near the plug after assembling. But also, charging battery often is a hassle as its charge drains out quickly.
Moreover, buying a battery is expensive. If you use swing regularly then you have to buy batteries every month that can be costly and even more expensive than buying a regular swing price after a long time use.
Remember that portable swing with batteries and plugs in both is also available in the market. So, in this case, a portable swing can be more useful for you.You can apply these 5 secret techniques to Improve Portable baby swing.
The features that combine with portable swing is simple. It has options of soothing baby with swing motion a customization speed as you prefer. Most of them have soothing music options with volume control and automatic shut off. Whereas, a regular baby swing is programmed with more functional options that include more unique motions, mp3, and even light beams. For this, a full-size baby regular swing is more expensive than a portable one.
In conclusion, now you know that both the swing has its great features. A portable baby swing is foldable, portable, and lightweight with batteries so it's easy to travel with but less functional. On the other hand, regular one has AC adapter options that will save your money. Moving it is tough but it's more functional.
​Do the batteries come with swing deliveries or should I order it?
– No, it doesn't. You have to order it.
​Do the toys hang down low enough for the child to swat at them?
– Easy to swat but too high for them to grab.
​Is there any option to turn off the vibration automatically of those swings?
– Yes, they turn off automatically
​How strong is the vibration of swing?
– It's quite gentle and soft.
​What is the maximum and minimum age to use the baby swing for an infant?
– It depends on weight. Maybe for the first few months.
Are the seat and headrest cover removable and can I wash it in my washing machine?
– Yes, you can.
​How can I control my 4moms mamaRoo4 baby swing?
– You can control your mamaRoo through smart mobile that supports Bluetooth.
Final Words
​These list of 10 best portable baby swing review is an ultimate guide for you. They are quality and economical supportive whether flexibility concern to you more or various features is really what you prefer.
The truth is, baby loves constant soothing and sweet melodies and toys to play until they get tired and fall asleep. This is what baby swings offer. Once you take home the perfect baby swing for your infant, your family and baby both will have fun.