There's nothing more exciting than packing up the car, rounding up the kids and heading for a sunny campsite over the summer. While you may not need much for a happy holiday under the stars, you will need to keep from losing your mind!
Oh, yes, toddlers can get you there very quickly, if you are not adequately prepared. But turnouts, camping out with toddlers is the best gift you can ever give to them. Toddlers seem to settle better in the outdoors when kept comfortable. Camping provides an opportunity for them to learn and engage with nature. Best of all, you get to witness it all and enjoy their company as you also find time to unwind outdoors.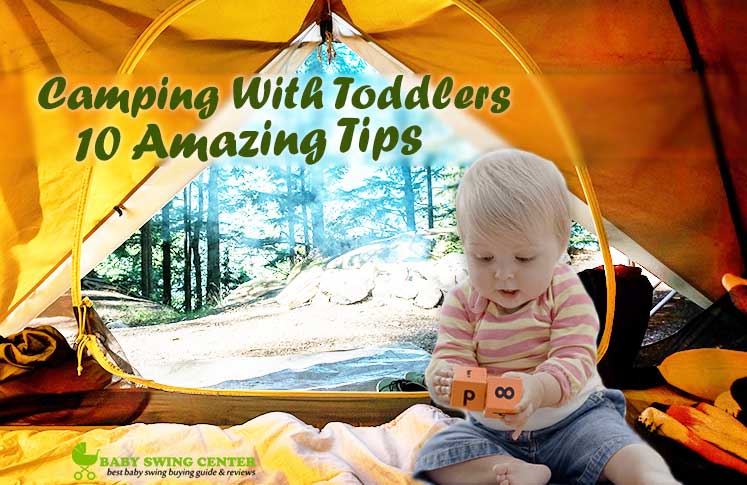 So if you are planning on camping this summer, here are some tips to help you prepare adequately before you embark on that camping excursion that you have been looking forward to. We have put together 10 amazing tips to help you get started.
Purchase Waterproof Camping Tent
First things first, obviously a good quality camping tent is a definite essential. There are some important features to look for when purchasing a new model. For instance, go for a completely waterproof camping tent with nylon-coated floor and rain fly (the outer layer) to save you the trouble of waking up in the middle of the night in a puddle. For added stability, so it doesn't topple over your little ones, go for one with more guy ropes and groundsheets. The latter is essential as they protect the tent's floor from rocks and prevent condensation forming on them if you're camping somewhere chilly.
Start Small
If this is going to be your very first camping trip with the kids, start small; don't bite off more than you can chew. Limit yourself to not more than three nights and don't go to a camping site that is far from home. A site that is a few hours from home is actually ideal. This helps you to gauge just how much not just you, but also your toddler can take the first time. Later you can stretch your limits by staying further away or more days.
Practice Sleeping In A Tent
Sleeping in a new place is hard as it is for adults, so imagine how much harder it is for a toddler. You may find it challenging trying to calm your toddler in a small dark tent, compared to his huge room. To prepare them for dark tiny spaces (your tent) you can do a night of backyard tent camping to help familiarize them with what's coming.
Have A Plan For Sleep Time
Usually, younger babies will have no trouble sleeping through the night, only waking up occasionally to feed. So you can pretty much follow their routine. Your toddler, on the other hand, may get uneasy in the dark and will find it hard to settle down for the night. That is okay since they are more aware of their surroundings and may get spooked or simply just miss their old room. Have a plan ready with you when they refuse to sleep and insist on going home!
Pack Outdoor Toys
No need to go for brand new toys – in fact, the most ideal are the toys they already have at home so you don't need to encourage them in how to play. These will also encourage them to feel safe to play freely, in an unfamiliar new place. Having his own toy also provides your toddler an option for self-play in the campsite. This buys you a few minutes to attend to something else that requires more attention like cooking.
Pack A First-Aid Kit
Injuries put a damper on kids. They are even less fun in the wilderness. Ensure you have plenty of band-aids for a couple of falls on a hike, ice packs, gauze, an ace bandage, cleansing wipes, insect sting treatment and more. While still on the subject be sure to pack sunscreen and bug spray to keep your toddler protected from sunburns and bug bites.
Choose Age-Appropriate Hikes
While hiking is fun for everyone, including toddlers, it can get a bit much for a toddler very fast! Especially at high elevation, when they have been running around a campsite for hours. Plan to hike in a kid-friendly terrain. Also, having a toddler carrier with you all the time for when he gets tired will come in handy. This allows you to do a lot more hiking with a toddler in tow.
Don't Be Restricted To The Campsite
As with all toddlers, they get bored quickly with routine. Include variety in your camping expedition by looking for an area with lots of possibilities for additional adventure: hiking, fishing, swimming, looking at waterfalls, anything to keep them captivated. It is also a great way to create memories.
Know Your Surroundings
Be on the lookout for plants like stinging nettles and poison ivy that should be avoided at all costs. Sweep the campsite noting which berries are around you. Under no circumstances should your toddler eat any of the berries without adult supervision. Be vigilant especially when they are self-playing. If you're not sure if a berry is edible, better to just not eat any of them at all.
Plan Easy Meals
Toddlers burn a lot more calories when camping than they would normally do at home. Have lots of healthy snack options to prevent those nasty hangry meltdowns! Snack like: fruits, carrot sticks, cracker, boiled eggs, sausages and so on.
While still on the subject of meals, you may have enjoyed cooking meals over campfires. You know – the pizzas, lamb chops on skewers and many other delectable meals you could think of during camping. With toddlers, cooking over fires will get old fast when their hunger pangs set in. The rule of thumb with toddlers is fast and easy! Do campfire packets, bacon, hot dogs, eggs, sandwiches, and oatmeal as examples.