In this article we will review Fisher-Price My little Snugapuppy Cradle and swing.The next generation snugapuppy cradle and swing has a sophisticated new look. Perhaps this baby swing is the best baby swing that has become famous for its uncommon appearance. The swing has the deluxe plush fabric and this will embrace baby in luxurious softness. The seat also has a removable support for newborns in an adorable puppy theme. It also has two swinging motions and a variety of other customizable features that let you choose and combine what baby likes most.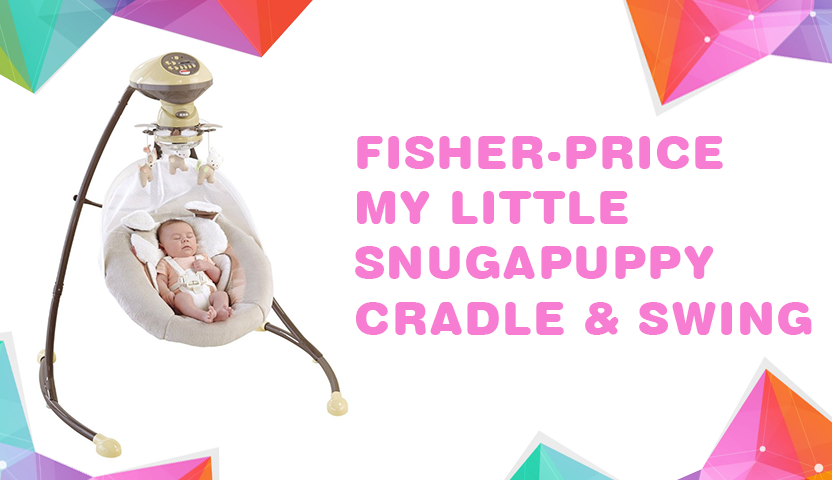 Fisher-Price My little Snugapuppy Cradle Review
Adjustable Straps
The seat is comparatively cushy and a round shaped soft fabric is attached to it. The bear shaped fabric is attached with the seat. There are two different heights for the shoulder straps. When the baby is first born you need to put it on the lower setting and move it up higher when the baby gets bigger just goes over the clip on both sides. All the straps are adjustable.
Baby Weight
The swing goes up to 25 pounds. Fisher-Price My little Snugapuppy Cradle and Swing is only for a newborn baby.
Music Traits
Volume setting option is there to fix the range of the volume. 16 soothing and playful songs and sound effects are integrated into the swing machine.
Folds up nicely for storage
Yes, It does engage a lot of space in the room. It takes up a lot of space but it folds up or holds up nicely for storage. At the back, there is a bar snaps off and you can just bring the two sides together to lean it up against the wall or in a closet.
Runs with either battery or power
The plug-in point is run by the power. Convenient AC plugs-in saves money and batteries.
The fabric is comforted with deluxe plush
The baby is comforted in the deluxe plush fabric. The fabric is smooth and cozy that makes your baby keep smiling all the time. The puppy theme is designed to the seat attached.
Seat patterns are removable
Alter plush seat pattern support is removable and machine washable. The seat cover can be washed as many times as it needed to be.
The baby is secured by five points restrained
The baby is secured by five points restrained. Five points harness is there to keep the baby more secure. All the straps are moveable and adjustable as well.
Soft spinning toys overhead
Multiple toys are hanging attached to the motorized mobile with mirrored globe. Your baby will be entertained by soft spinning toys overhead. One mirrored globe to let them see all around and a tethered toy.
Smart swing technology
Smart swing technology has added a unique value in Fisher-Price My little Snugapuppy Cradle and Swing. It can detect baby's weight and on that basis, adjust the swing speed. So, the motion of the speed doesn't get slower as baby grows.
Canopy is attached to secure your baby
An airy canopy is set to protect your little one from dust, wind and sunlight. So, the canopy is needed to protect your baby from unwanted circumstances.
Frequently Asked Questions (FAQ'S)
Does it handle a baby with an overweight?
Yes, surely it does. It can be plugged in and run with electricity.
Does it have the battery and power options?
Yes. It does have the both options. 4 D battery options are there on the top of the swing.
Does the motor sound loud?
Well it does. Initially, it starts a bit louder and after that when the swing and motor are integrated then it calms down.
Bottom Line
Give your baby the perfect snuggle with the "Fisher-Price My little Snugapuppy Cradle and Swing. Swing your baby head to toe or simply traditional side to side, anything is possible in this swing cradle. It is designed with a new look and outfit. The contemporary demand and wants of the customer is required to be doing these kinds of stuff. It makes your little one cool and entertained while you are busy or out of work. This baby swing is the best baby swing for those who want to restraint space in their home. My little snugapuppy has set an example for the newly parents who want to balance their busy life and schedule. So, without further ado, my suggestion would go and grab one before it finishes off from the stock.