One of the toughest decisions that many parents face is choosing a stroller that will match your needs. Do you have triplets or twins and a toddler? How do you ensure that you pick the right stroller that will keep your little ones safe and happy? There are different types of strollers on the market which can be a little confusing to pick the right one. I have prepared this guide to help you choose the best triple stroller for twins and toddler. Here are important considerations to think about.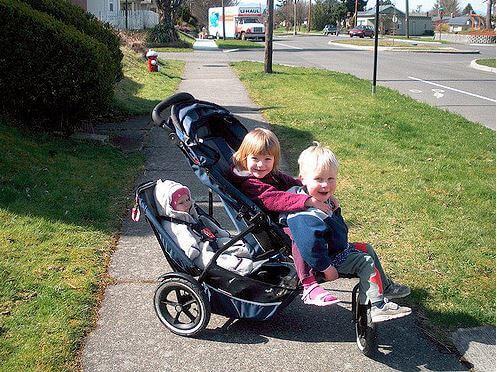 Guideline On How to Choose the Best Triple Stroller for Twins and Toddler
Here we discuss the factors to consider before buying a triple stroller. Hope you like it.
Safety
This is one of the most important factors that you should consider when buying a triple stroller. You need to check out the included safety features to ensure your kids are safe when you are using the stroller. In reference to consumer reports, some of the important safety features that you should check include a reliable braking system and safety harness. Five-point harness and shoulder straps offer the right safety.
In regards to brakes, a good stroller should be equipped with one parking brake and a quick release mechanism. You should check whether it has a tether strap on your wrist to prevent the stroller from rolling away.
You should also make sure that you follow the direction of use given by checking the age and weight recommendations. You don't want to end up with a triple stroller that cannot accommodate the weight of your kids.
Weight
Strollers come in different weights depending on where you want to use them. For instance, a triple stroller that can be used on all terrains can weigh more as compared to umbrella strollers. As a parent, you should ensure that you don't struggle with the weight of the stroller when pushing it. Also, consider how the weight of kids will affect the maneuverability of the stroller and whether you will be carrying shopping bags and other items.
Steering
The last thing you want is a triple stroller that is difficult to steer. Make sure you can steer your stroller with ease. The best stroller should be easy to steer even in tight corners. You should be in a position to use the stroller with your normal strides. This means that you should not hit on shin when you are pushing the stroller.
Canopy
A canopy will come in handy to protect your kids from outdoor conditions like sun, rain, and wind. Look for a stroller that is designed with an adjustable canopy to keep your kids comfortable and protected from harmful UV rays and other weather conditions.
Storage
Apart from carrying your kids, do you plan to carry other items? If you would love to carry some grocery or other baby items, then you can look for a triple stroller that is designed with a large basket below the seat. Again, you would also love to carry some essential items like keys, phone, snacks, drinks and much more.
Ease of use
Strollers are not designed the same. You can find some models that are easy to use while others are complex. Nobody wants to buy a stroller that will be hard to use. Make sure you can lift the stroller easily in and out of your car. If you travel a lot, you can look for a model that folds and unfolds with ease. Again, does the stroller allow you to maneuver with one hand? Does it fit through doorways and store aisles? Is easy to maintain clean? All these are important factors that will help you choose the right stroller that will be easy to use.
Final Words
Having triplets or twins and toddler can pose a challenge when you need to carry them. You cannot carry all the three kids on your own when you are going for walks, shopping or other activities. This is why you need a convenient triple stroller that will help you carry twins and toddler safely and comfortably. I believe after checking this guide, you have the right information that will help you pick a quality triple stroller.