Babies need lots of stimulation to aid in their development, which is why knowing how to select toys for babies 6 to 12 months old is very important but can be quite daunting.
From 6 to 12 months, babies become more curious and lots of things catch their eye, like colors, movement, sounds and so much more.
With an overwhelming amount of baby toys available, it's next to impossible to find ones that match their age range, but more importantly, are safe and secure for your precious baby to play with.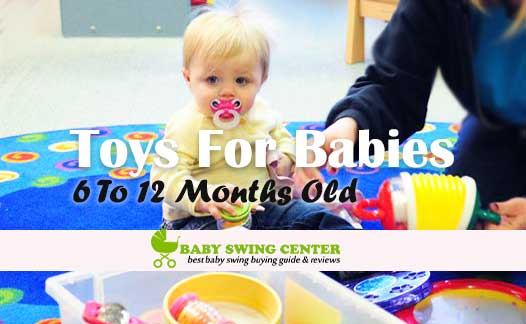 That's why we've put together a short guide to help you select the ideal toys for your 6 to 12-month-old baby so that you can shop with confidence and without worry.
Grasping Toys
Babies love grasping things and this helps them to develop their fine motor skills. The sensation of grasping something and holding onto it increases their confidence and self-esteem as they explore new skills they never knew they had!
Baby activity balls are very popular grasping toys because they have lots of elements to them that your little one can explore.
As well as that, they are quite colorful, which will capture and hold your baby's attention.
Rattles are another excellent grasping toy and they have been around for centuries, cementing their place as one of the best toys you can buy for your baby.
Teething Toys
Babies can start teething between 4 and 6 months old and given this can be a very uncomfortable experience for them, teething toys can really help.
Teething toys will help to soothe your baby's gums, especially the ones that contain a cooling gel and that you can place in the refrigerator.
They can also help a tooth break through the gum as your 6 month old rubs it back and forth for comfort along their gums.
There are a huge number of very popular teething toys on the market, from colorful teether keys to the outstandingly popular infant training toothbrush teethers, to combination rattle and teether toys and so much more.
Stacking Toys
From 6 to 12 months of age, you'll notice that your baby loves to stack things, sometimes knock them down again, and stack them all over.
This is wonderful for their development as it helps with their fine motor skills, grasping skills, hand-eye coordination and more.
Stacking toys for a baby girl or baby boy are hugely popular, and the sheer joy and excitement your infant will get from placing one toy on top of another and building it higher will astound you at times.
You'll notice their confidence grow, as they learn patience, focus, and other essential life skills at this very young age.
Stacking toys come in all shapes and sizes, from the traditional colorful stacking cups to the new colorful wooden ring stackers, to alphabet and nesting stacking blocks and more.
Baby Swings
Infants and toddlers love movement, especially the movement they get from baby swings, as it helps to relax them and make them feel secure
The more modern baby swing is geared towards giving Mom or Dad a much-needed break while keeping baby entertained or lulling them to sleep for a nap.
Most swings for babies come with hanging mobiles that have colorful toys to keep baby entertained d while Mom gets some housework done.
Or if the baby is due for a nap, you can place them in the swing, set the speed you'll like the swing to sway at, turn on the soothing music and nature sounds, and watch your little one drift off into a peaceful and restful sleep.
Check out the Mamaroo vs Rockaroo Comparison
Push Toys
Some babies will be crawling at around 6 months, and some will even be trying to pull themselves up to try to walk.
Push toys are great for helping your baby transition from crawling to walking, especially between 6 and 12 months of age.
The excitement they get when they pull themselves up, hold onto push toy and begin to take their very first steps is memorable.
Push toys are more exciting now than in years past and are designed to encourage babies to engage more so that they actually begin walking without realizing initially that they are!
You can get the traditional wooden click clack alligator push toy or the cool shopping cart push toy and a whole host of interesting and engaging designs in between.
Of course there are lots of other types of toys that are appropriate for babies, but the most important thing for you to remember when you're selecting a toy is how it will help with your baby's development, is it made from the best quality materials, is it safe for your baby, and will your baby enjoy it.