Baby bouncer, baby swing, and baby rocker seats mimic the rocking motion of a baby lying on the cradling arms or stomach of the mother.
Chances are that you will ultimately seek a baby bouncer, baby swing or baby rocker for your expected newborn, irrespective of your location when you are pregnant.
As a result, there is a need for you to look at Bouncer vs Swing vs Rocker in order to guide you on how to choose the best one for your baby.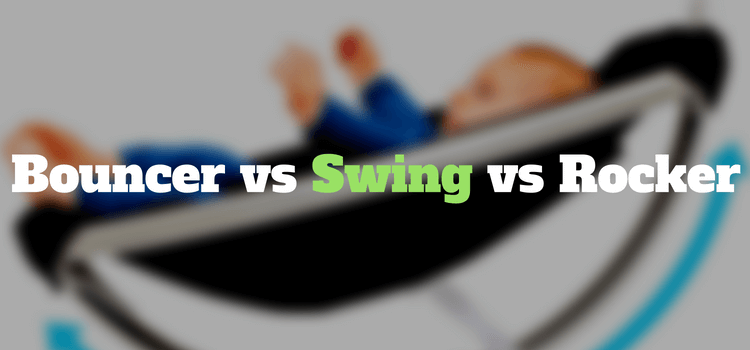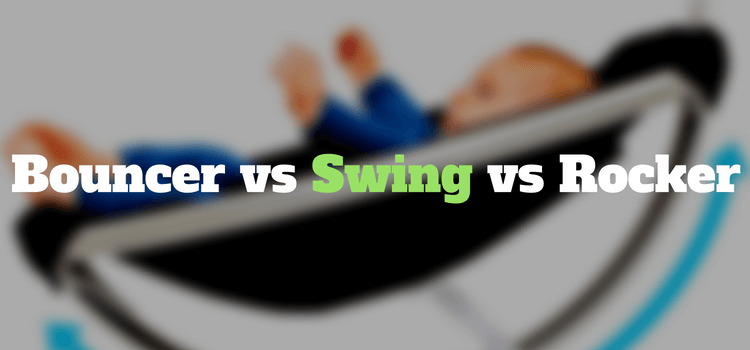 With these baby seats, you will have free time to carry out some important household tasks or get some much-required rest, provided that you are always near your baby.
Any of the seats are supposed to calm your baby whenever you are preparing dinner, answering phone calls, replying emails or changing your clothes. It is the rocking motion of the seat that will calm babies and even make them (in a majority of cases) fall asleep through their magical effect.
More and more bouncers, swings and rockers are being manufactured each year as a result of high demand. They have turned out to be a staple and gained enormous popularity among mothers nowadays.
However, it is not all that important to buy all these baby seats, but you need to know which of them will suit your baby best, or whether there is one that your own baby will ultimately prefer over the other. This is why Swing vs Bouncer vs Rocker comparison is rather important.
But the question is that; what is all parents consensus about Swing vs Bouncer vs Rocker?
Keep reading to find the answer to this vital question.
Introduction to Bouncers
Bouncy or bouncers are versatile, reasonably affordable seats or pieces of baby equipment designed particularly for playtime. It is useful as a secured place to lay your tot in the early days as you do some other important things in the house.
Babies often stay put on this seat for a long period because they enjoy the interesting springy movements. Some of these kids find them entertaining enough to go crazy by kicking their legs in enthusiasm. A number of the top baby bouncers have vibrations and toys as part of their added features. The attractive animals or toys on the top bar of the bouncers will allow your baby to reach out and play.
Bouncing time can strengthen the muscles of the leg, making baby bouncers perfect for developing your tots. This will in turn help to get your little one ready for the crawling and walking stages in the course of giving them exercise in the early months.
Bouncers are motion-powered and move when pushed gently. In order to move your baby, you have to pull the bouncer seat forward lightly. Subsequently, the springy mechanisms let your baby bounce right back. This backward and forward motion might continue for a short while, but you will have to stay near your tot to keep things moving.
Top Bouncers short Reviews
This is a stylish and ergonomic baby seat with a soft and snug design fit for the use of your tot right from the first day of birth. BABYBJORN Bouncer Balance Soft seat comes with four different angle settings of transport, sleep, rest, and play.
The balance and motor skills of your baby are developed with the fun and natural bouncing movement of this baby bouncer. It is ideal for tots and babies between 0 and 2 years of age.
Pros
It is portable, making it easy to carry it from one room to another
It is an attractive and comfortable bouncer for babies
The sleek Scandinavian design makes it ideal for small spaces
It is machine washable
Gives adequate support to the back and neck of the baby
It can be converted to a tot chair by reversing the cover and putting it at its tallest setting
The fabric seat cover of BabyBjörn baby bouncer is soft, long-lasting, and very easy to clean
It is physician approved
Cons
It could be considered a little expensive.
Doesn't come with toy bar, meaning that you will have to buy it separately
This baby bouncer is a great way to keep your tot amused so that you can have enough time to do other important home chores. Essential skills are developing as your baby snuggles into My Little Snugapuppy Deluxe Bouncer from Fisher-Price.
The gentle music and overhead mobile features of the bouncer enchant the attention of the baby and help strengthen all the important senses such as hearing and sight. In addition, the comfortable environment, plush fabrics and calming vibrations provide your child with a sense of safety.
Pros
It is affordable
Snugapuppy bouncer is strong, flexible, and soothing
It is machine washable
Quite great for naps
Modifiable 3-point restraint
Deep and added cushy seat with supple, accommodating head-rest and infant insert
Lightweight and portable design with non-skid feet
Soothing vibrations and more than 20 minutes of sounds and music make playtime fun and interactive
Very comfortable seat for your little baby to relax and play
Cons
Occupies a good amount of space
The motor of this bouncer makes a loud, grinding noise while working
Motor is unreliable and can stop working suddenly without notice
It may not be the best choice for nighttime sleep for a tot who relies on the rocking motion
Counting Sheep Bouncer (Silver Cloud)
This bouncer from Silver Cloud is an attractive soothing seat for your baby to sit, play and nap. The Counting Sheep Bouncer comes in a padded seat, soft touch fabrics, and other amazing features to make it one of the leading bouncers on the market. The bouncer is appropriate for use from birth until when the baby is about 6 months old or when he can sit independently.
Pros
Very easy to assemble
Portable and easy to move around
Quality and nice bouncer
Looks very comfortable
Introduction to Swings
As we continue the comparison of Bouncer vs Swing vs Rocker so that you can buy the one that will suit you the most, we are going to take a look at baby swings.
Baby swings are instinctively powered seats that offer comfort to a choosy baby by imitating the cadenced motion experienced while in the womb. Swings are a great place where you can lay your baby down to allow you to carry out certain stuff. However, it can be tough to know what your baby will like or hate, considering a lot of baby seat models that can swing, vibrate, rock or go round and round. That is where Swing vs bouncer vs Rocker comparison becomes handy.
A good swing will give you the choices of rocking your tot up and down, forwards and backward and from side to side. Moreover r, they serve as a lifesaver for parents who have cranky or colicky infants. Baby swings are available in portable and full-sized models.
Portable Swings
This type of swing is used where there is limited space or budget. They do not occupy too much space while they cost less. But the fact is that most of the available portable swings only provide battery power. This means that they will surely cost more in the long run because you will be paying exorbitantly for changing the battery frequently.
Full-Sized Swings
This type of swing needs a fair amount of space because they are not always easy to move. You consider buying a full-sized swing only if you have a particular room in mind to put the swing with the intention to move it.
Hence, first make sure that you have a room in your home where you will keep your full-sized swing before you buy it. As a matter of fact, this type of baby swing has the best swinging motion as the swings are taller and the motors are located at the top of the swing. They are sturdy and hard to tip over. Nevertheless, full-sized swings are more expensive than the portable swings.
Top Baby Swings Reviews 2019
This is one of the most popular baby swings on the market due to its deep plush seat, suppleness, and affordability. Sweet Snugapuppy Dreams Cradle 'n' Swing is particularly comfortable, unlike a lot of other swings available on the market, making it just right for naps.
You can select and combine what your tot prefers best with two swinging motions of head-to-toe and side-to-side, as well as several other customizable features.
Pros
Very soft, snuggy and soothing
It is machine washable
Very easy to assemble
Deep and cozy seat
AC adapter and battery options
Cons
It can only accommodate up to 15 pounds
Bigger tots won't be able to use the particular swing
If you are looking for a baby swing that will keep your baby secure and safe, look no further than Ingenuity Cozy Kingdom Portable Swing.
It is a quiet baby swing that folds compact and flat, making it handy enough to be taken almost anywhere.
Pros
It is quite simple to put together
It is whisper quiet
Very easy to clean and maintain
It is machine washable
Easy to store
Cons
It doesn't stop immediately you turn it off
It runs on batteries only because it doesn't have mains power adapter
These baby swings are designed to imitate any motion that you could make with your body, arms, or even the car as a parent. The 4moms MamaRoo Baby Swing sways from side to side and bounces up and down as parents do when they are comforting their tots.
This distinctive swing was made to mimic the moms' movements of bouncing, swaying, swinging, and rocking. It comes with 5 diverse kinds of movements that can calm and appease any difficult to please baby and is much loved by hospitals. It comes with amazing and fantastic features are fantastic that make it one of the top swings. Here you can read the MamaRoo vs RockaRoo – Comparison and Reviews
Pros
Compact size for modern living
Diverse seat positions
It is machine washable
Overwhelming and exceptional movements
Mobile control
Swings and bounces
Adorably accurate motions
Cons
Relatively slower speeds
Terrible speakers
Very expensive
Issues with using Bluetooth
Read the best baby swing for colic baby buying guide
Introduction to Rockers
Baby rockers are a perfect place to put your baby while you are attending to household chores that need the use of your two hands. The baby rockers normally swing back and forth smoothly as your baby lie back and rest. In actual fact, this rocking motion can calm babies.
Rockers are designed to help a fidgety baby to get to sleep or keep a picky baby cool. A baby rocker is ideal for keeping tots entertained for a while without taking up too much space.
Top Rockers Short Reviews 2019
This is the perfect way to send your baby to fantasy in tranquil comfort with the calming rocking, soothing vibrations, and ground-breaking projected light show of Auto Rock 'n Play Sleeper Baby Rocker from Fisher-Price.
This baby rocker develops and stimulates the senses of the little ones as well as offers the ultimate soothing atmosphere for your baby to sit back, calm down, and sleep with different calming music and sounds, gentle motion of hands-free rocking, and three sweet projection scenes.
Pros
Very easy to store
It is long-lasting
The covers are easy to wash
Quite exceptional for tots with reflux
Extremely ideal for keeping an infant busy and secure when mom is cleaning, cooking, or carrying out other important home chores
Batteries are not required as it runs on AC Adapter
It is available in many style and color choices
Very portable and easy to carry from one place to another
Cons
The vibration alternative is available on the basic model alone and not on Auto
There are complaints of flat head in baby by some moms, particularly when used as a sleeper
This is a two-in-one Rocker that will keep your baby close to you even as you sleep or perform some important household chores. With Newborn-to-Toddler Portable Rocker, you can put your baby to sleep by rocking the sleeper back and forth in a gentle manner. You can also use this rocker as a seat by tots.
This portable rocker keeps infants safe and cozy as they develop, from snoozing and soothing to eating and playing, even as they grow.
Pros
Quite simple to wash
The fabric of the baby rocker is machine washable
It has a long lifespan
It is portable and foldable for storage
Cons
You cannot use it when tots start rolling over and prefer sitting upright on a reclined position at around 5 months old
The legs of the chair may easily fold inwards in the course of pulling it
This creative swing comes with a seat that doubles as a rocker, providing you with the suppleness of moving around the house as it keeps your tot comfortable and near-by. Duetsoothe Swing and Rocker from Graco is one of the best swing/rocker combos on the market today. The rocker lets you put the seat in three different ways in order for your baby to sway front-to-back or side-to-side.
Duetsoothe Rocker comes with two vibration settings to soothe your baby and 15 sounds and songs, in addition to the multi-direction swing while you can remove the rocker to bring it around with you. The hardness of the rocker keeps your baby safe. However, this is not an option for you if you have limited space as it occupies too much space.
Another great thing about Duet Swing & Rocker is that it is loaded with quite a lot of soothing extras such as adorable soft toys, vibration, and music to keep your tot in high spirits all the time. DuetSoothe Infant baby rocker has all the functions or options that your toddler will love. This is best swing for toddlers.
Pros
Swing and detachable rocker in a product
Graco Duet Soothe Swing and Rocker offers 3 three different seating positions of straight out, right and left.
Modifiable swing speed and direction
Comes with smaller detachable inserts that are appropriate for newborn babies
Quite handy and easy to use
It adds artistic value to where you station it
Comes with soft fabrics that can be washed easily in a machine
Quiet motor ensures whisper quiet operation
You can save money on batteries with the AC Adapter feature
Extremely affordable
It comes with sturdy and strong frame to guarantee utmost durability
Offers enough space for your tot to stretch
The seat can be separated and used as a rocker which enables you to move around your sleeping little one without waking him
Cons
It produces a kind of cracky noise when swinging
A bit difficult to assemble
It doesn't come with canopy
Too big and heavy
Substandard plastic construction
You may need to move baby around the mobile and motor assembly before you can put in the swing
Comparison: Bouncer vs Swing vs Rocker
Baby bouncer, baby swing, and baby rocker are the best options for parents with newborn infant babies that don't always have the patience and time to calm their babies in their own arms. However, choosing the among baby bouncers, baby swings, and baby rockers can be challenging. This is the need for Rocker vs Swing vs Bouncer comparison.
Baby Swing vs Bouncer vs Rocker Differences
Bouncers – A baby bouncer is what a baby can use for playing, sleeping or sitting. It has a built or construction of foam and cotton for the comfort of an infant. Bouncers help a baby to learn how to walk gradually without any assistant from the parents.
Depending on the push or force applied to the bouncer, bouncers are cuddle fit baby holders that are motion-powered and may possibly move or vibrate for some time. In addition, baby bouncers are motion-powered baby seats which are normally smaller than the swings and rockers.
If you give a bouncer a little bounce or when your tot wiggles around, the bouncer will vibrate for a while and then wind down to a stop until when you humanly power it again.
Swings – This is the best way to give some fun to your baby. A baby swing demands more effort from you than the baby bouncer. Baby swings are normally used to make baby sleep with comfort and the move forward and backward. You don't need to push the seat forward or backward manually because the swings are electrically operated. All baby swings are manufactured with quality materials to guarantee durability.
Baby swings are powered mechanically and normally occupy too much space than a bouncer or rocker. They will swing for as long as the swing is turned on. In general, baby swings cost more than baby bouncers and baby rockers.
Rockers – This resembles the swing and works great for the comfortable sleeping of a baby. Nearly all the available rockers are made of wood, steel, and plastic. Manual rockers that need to be pushed gently are available and there are electrically operated rockers that you don't need to push at all.
Electric rockers feature calming songs and music for quicker sleeping. As a result, your tot will have a deep and sound sleep without any commotion.
Pros and Cons of Bouncers, Swings and Rockers
The Baby Bouncers
Pros
Quite affordable
Takes less space
Cons
When it comes to putting a baby to sleep, it is not as effective
It won't keep your baby moving like a baby swing
The Baby Swings
Pros
Very effective at putting babies to sleep
Calms a baby down fast
Cons
Occupies more space
Extremely expensive
The Baby Rockers
Pros
Quite affordable
Occupies little space
Handy and lightweight
Cons
It cannot be mechanically powered
You must rock it to perform
Conclusion
We have reviewed top baby bouncers, baby swings and baby rockers that really worth the money. We have also examined the differences between a baby bouncer, swing, and rocker as well as their benefits and drawbacks. It has also been pointed out that each type is different in its own way. You may choose to have all the baby seats in order to be equipped for quite a lot of circumstances.
Baby bouncers are more of a wide-awake kind of seat, while baby swings and baby rockers are mostly used to calm a baby to sleep. Having done the comparison of Bouncer vs Swing vs Rocker, you can now shop for the perfect one that will suit your baby without having any tough time again.