Introduction
Baby swings are made for all types of babies. Some of the baby swings that are accessible in the market have made for older and some are made just for newborn babies. Generally, the average weight of the baby is 7.5 pounds but it varies as well. Baby swings can take baby weight maximum up to 3o pounds. Baby swing for older babies two factors are pivotal and need to be considered. One is child's weight and another one is age. Lots of swings for older babies are available in the market; we can take Graco Glider Elite Baby Swing as an example. This swing has got all the attributes that an older baby swing could have been.
Two Products in One
Glider elite baby swing has got a gliding swing and bouncers in one product. It moves from head to toe very smoothly and gently.
Baby's Weight
The baby's weight range is up to 5.5 to 30 pounds. It has two parts, the prime glider seat (which is the removable bouncer) and the swing base. The bouncer can take the weight for babies under 19 pounds.
Remarkable from Conventional Swing
This swing is sophisticated and exclusive from other common swings in the market. It has a glider, which is also called the removable bouncer seat glides or slides from backward to forward to stimulate the baby instead of the slide from side to side.
Toys are not Fixed
At the top of the swing where the hood is placed, there are two detachable toys hanging. The baby engages with those toys. These toys are detachable and can easily be washable. There is an option if your baby doesn't like it you can take them off.
Insert Feature
An insert which is placed inside for your baby to be sleeping comfy. You have the option to take it off whenever you want.
Five Point Harness
Belts are attached to the swing to protect the baby from unavoidable accident and circumstances. The straps are adjustable and can move those up and down when your baby gets bigger and older. The five-point harness keeps baby cozy and cushy and gives you peace of mind.
The Height of the Swing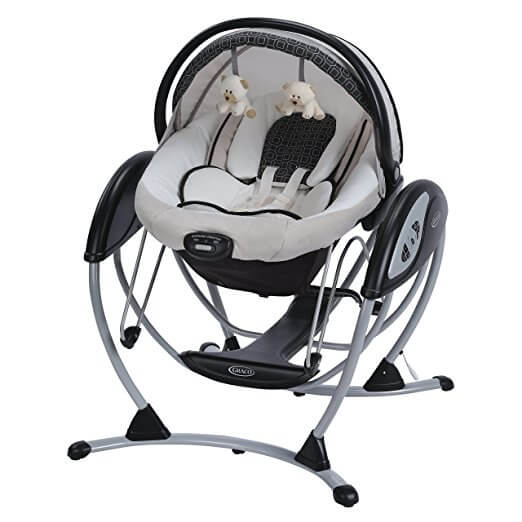 The swing is stood about three feet tall and compact about the baby. The baby can easily be fitted in it. A carrying handle is located on the top of the swing where you can move it from forward to backward. A button is there to lift the chair up and down. Press that button the chair can sit baby more upright or lay your baby down.
Accommodate Up to Growing Baby
It is perfect for the newborn baby. The swing easily slides a newborn baby with comfy and joy. It can be removed to accommodate your growing baby.
Conclusion
Baby swings for older babies are not only for infant baby. It can embrace your baby till growing period. The baby swing is always been best for babies.